Is your desktop or laptop broken, or won't start? Having virus issues or need your hardware upgraded? Need a screen replaced after an accidental drop? Give us a call or bring in your device and we will provide you with a quote for repairing it same day. Most repairs are completed within 1-3 days. With Pennyrile Technologies, you'll find expertise, amazing prices, and the customer service you deserve!
The list below is not a comprehensive list of our repair offerings. If you have an issue with your PC, just get in touch! Stop by, call, or shoot us an email. Our staff can answer any questions about PC repair and let you know if we can fix your device.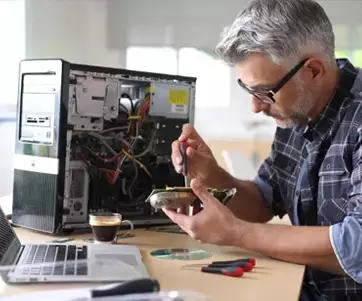 Computer Repair Services Offered
All computer brands and models are welcomed including, but not limited to Apple, Dell, ASUS, Acer, Lenovo, Samsung, Sony, Toshiba, Alienware, Chromebook, Fujitsu, HP, MSI, and many more.
Having Computer Problems?
Pennyrile Technologies is dedicated to providing the best customer service and computer repair available to you. When your Laptop, PC, or Mac needs repairing, you won't have to worry for long! Our technicians are skilled in dealing with all computers and gadgets whether you need home or business computer repairs. We offer exceptional repair and support services at reasonable prices, all 100% guaranteed. Our professional, certified technicians can resolve your computer related today!
Call us at 931-771-1149 or 270-632-0900 to get started.