The fascination with MacBooks among students and people all around the world is not without cause. Apple launched its first MacBook in 2006 and it has been quite the ride ever since.
With each MacBook enhanced and better than the last, the competition has increased between Macs and the Windows PC. But why are Macs and Apple so popular?
While the pleasing design of the Mac undoubtedly plays a significant role in attracting its customers, they bring a whole different game to the world of laptops and make people's lives easier.
Compared to their competition, the brilliant user interface, increased security, and various high-quality aspects like typing experience, video, audio, etc., put the icing on the cake.
The Mac's durability is unmatched, but when things go wrong they can sometimes be difficult to repair. We've listed some of the most common MacBook repairs and how you can quickly go about them. Let's get started!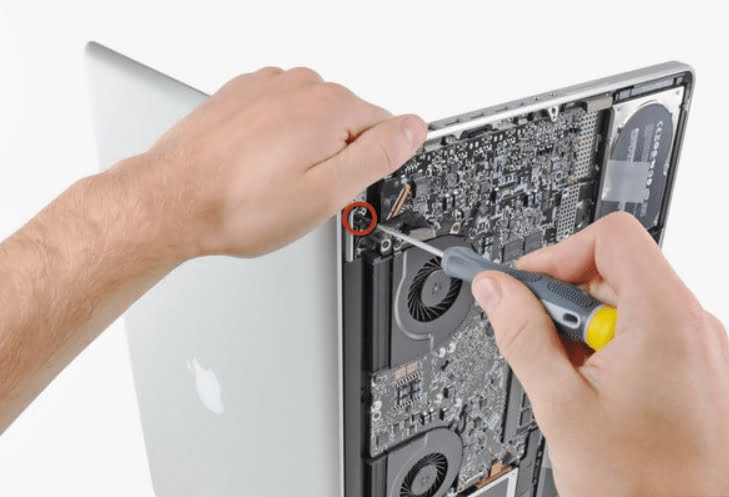 MacBook Repair For Cover Screen Replacement
If your MacBook's screen suddenly stops working, do not panic. The LED screens on the Mac are not made to last forever, as with all devices, so there are a variety of ways they can get damaged.
So many things could go wrong, like dropping it from a questionable height and resulting in a cracked screen. You might find yourself with a faulty screen due to years of usage (yes, like all laptops), or your butterfingers got the best of you and dropped some water on it.
There are also some infamous connectivity issues between the circuit board and your screen. These are just some of the various ways you can damage your MacBook screen and might desperately need professional help.
We're here to tell you that it can be fixed and cover screen replacement on a MacBook is one of the most common issues Mac owners share. While it is financially better for some people to buy a newer one, replacing screens is preferable for many.
Hence, professionals work on cover screen replacement using various high-end tools plus a lot of work experience dealing with the issue. So make sure to take it to a legit repair store instead of trying to fix it on your own.
You can get it repaired or replaced by reaching out to your nearest computer store that handles MacBooks, or type in "nearest Apple repair store" on the Google search box and get in touch with technicians of Apple near you.
Macbook Keyboard Replacement
The keys on the keyboard of a MacBook can either get damaged by years of usage, resulting in overheating issues or by various contaminants like accidental spillage of water, dust collection, etc.
Not only are contaminants the primary villains of this problem, but you might also have a hand in this. While keyboards on the MacBook are not as delicate, the issue can be caused by typing extremely fast and and placing a lot of pressure against the keys.
Luckily, you can replace the keyboard instead of buying a new MacBook.
Indeed you can take the route of buying a USB keyboard instead of replacing the original MacBook keyboard, which will definitely cost you less. But taking it everywhere with you can be troublesome and replacement is the key if you like to travel light!
Also, there are many DIY fixes you can do with a simple search on google of "how to fix MacBook Keyboard." The results are more often than not helpful, and they are often related to software issues.
However, if all fails, you can easily replace your keyboard without breaking the bank. The cost of performing a keyboard replacement will vary according to the store, but make sure you're going to the right technicians. An Apple professional will take extreme care and work with on your MacBook repair.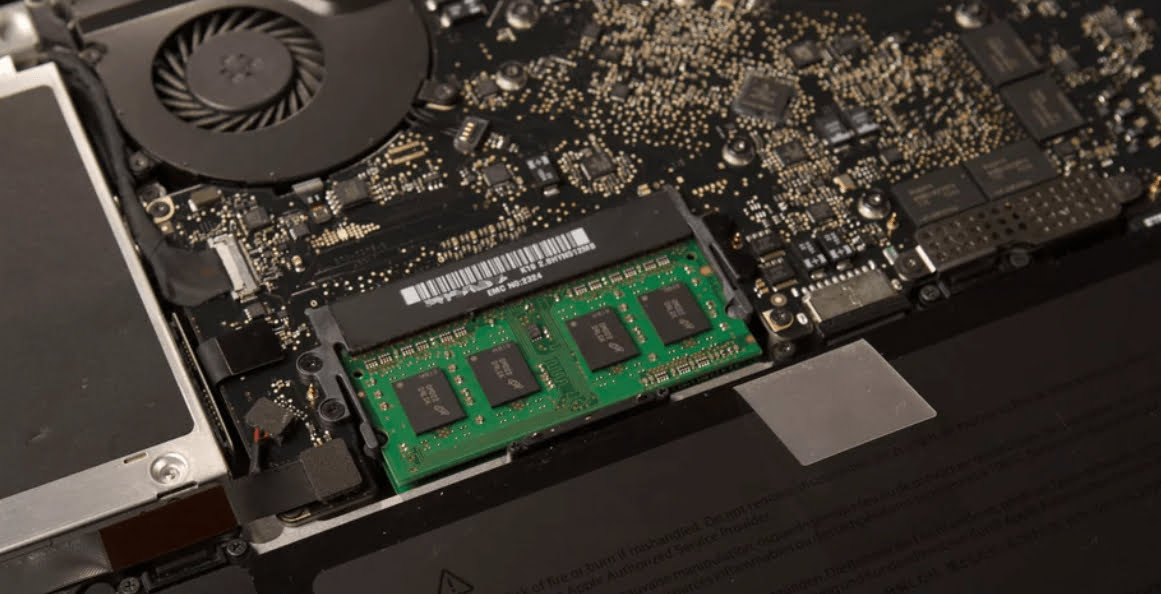 MacBook RAM Replacement/Upgrade
Ram replacement and upgrades are a common problem among old MacBook users, regardless of model and all other laptops. Various issues with MacBooks in the past have been due to faulty RAM, and a replacement may become necessary for the end user.
If you're starting to see your MacBook become slower by the day, it may be time to upgrade the RAM on it.
Not only this, but if you've come across your Mac with a blue screen when switching it on or ending up with a dark black screen even though your fan is running or the LED lights seem to be turned on, it might be because of your RAM.
These are just some of the primary issues faced when dealing with faulty RAM, among various problems that affect the functionality of your Mac. Since RAM is a vital component in running laptops, replacing it is easier than you think in some models.
Generally, MacBooks are pre-installed with 2 or more Ram sticks, and you can upgrade to more or larger sizes. Hence, it is possible to get out of this sticky situation yourself by finding out which of the RAM sticks is faulty and removing it.
If it is not severe, there are many ways you can fix it, including simply taking it out and putting it back might fix your issue. However, if you've tried everything but the problem continues, you should get it replaced.
Replacing or upgrading the Ram on your MacBook can be done quickly at most Apple, PC, or MacBook repair stores.
MacBook Hard Drive Replacement Or Upgrade
While the newer models of MacBook powered by the M1 and M2 chip come with a newly launched SSD, the older versions still run with an HDD, and having issues with it and replacement/upgrade of the hard drive is a pretty common issue.
Considering the HDD does a lot of work in preserving and writing your data, problems eventually come about over the years. A faulty hard drive can lead to a series of problems that can be quite bothersome.
Issues that generally come with a damaged hard drive are:
Your hard drive makes noises like a buzzing or grinding sound.
The crashing of programs and applications becomes consistent. You might also notice that they move slower than usual.
Folders or files keep disappearing or won't open.
The disk utility does not work and shows an error message.
Your MacBook is not easy to use with all the crashes and freezes.
These are some of the problems among many that you may notice when dealing with a bad hard disk. However, depending on your model, you can quickly replace it or upgrade it to a newer SSD.
The hard drive replacement or upgrade usually won't break the bank and are quite reasonably priced compared to the infamous Apple product price range.
If you want to take the do-it-yourself route, buy a hard disk from your nearest Apple store or Apple-authorized resellers and find a good tutorial on successfully changing it yourself.
And luckily for you, the task of changing it is straightforward and can be done quickly. However, if you lack the skills to change the HDD, head to your nearest MacBook repair store and let the professionals do it for you.
A word of caution will be to seek professional help even if you know the basics of changing a hard disk. Since you're dealing with critical data, risking it should be your last resort.
A quick search on Google will lead you to the desired location and have your MacBook good as new.
Battery Replacement
The most common issue faced by users of MacBook is battery replacement. We're not saying the battery on Apple products is terrible, but like every other battery on laptops and devices, there is a shelf life, and it will lose its charge over the years of usage.
Apple also mentioned that the battery life on some MacBook models could sustain about 1000 charge cycles before they hit the bed. So it doesn't matter how well you use it or how often you charge; there will come a time to change it.
A run-down battery usually causes issues like an inferior usage time, taking longer for your Mac to charge up, shutting down even though you charged it to complete, or just not turning on when you have charged it for quite a long time.
But that's not all; even though it's not rocket science to figure out that you're in desperate need of a battery replacement, here are more signs:
You can notice that your MacBook does not give the same productivity as it did, finding yourself needing to plug it into a charger before you finish your task. Setting a rule of replacing your battery after it hits 25% of runtime from its primary capacity is a good way and a sign to gear up for a new battery.
Is Your MacBook Overheating?
While overheating can be a cause unrelated to your battery and more of a hardware or software problem, you might need to replace a battery if it overheats while doing regular tasks like scrolling pages.
Keeping faulty batteries without a fix can lead to more severe issues, so replacing them at the earliest when you notice signs is a good rule of thumb.
Apple gives you a service alert when it's time for a battery replacement. You can easily click on the battery icon on the left side of the top corner and check the status of your battery for a quick replacement.
The condition will say normal if you don't need it, but usually, if you require a replacement, the condition is shown as "replace soon," "replace now," or "service recommended."
That said, changing batteries on older models of MacBook is straightforward, and you can take the DIY route. However, it gets complicated with newer models, so you can take it to the nearest Apple or Macbook repair store and have the professionals do it for you.
Logic Board Replacement
The motherboard, also known as the logic board in a MacBook, is the main circuit board where various components of the Mac interact. It also houses the various main components like the SSD, RAM, CPU, and the graphics card.
Since it is the most critical part of the Mac, with a faulty logic board, the MacBook will have various issues that may overlap with some of the issues mentioned.
Issues faced with a damaged logic board usually consist of the following:
Bad USB ports – ports will not recognize the devices you usually plug in and send an error message.
Accessing the webcam, WiFi, or other tasks on your Mac become a challenge.
Overheating issues come with a faulty logic board.
A faulty logic board might cause display issues like a blank screen or distorted images.
Your Mac will not turn on, and you may also face issues with your battery, like not charging or switching off on its own even though you charged well over 7 hours.
However, before the faulty logic board damages other components of the Mac, you can easily replace it at your nearest Apple or Macbook  repair store. The DIY route is not advisable for the main circuit board since it is the most expensive part of the Mac and requires specialized skills to perform it.
Wrapping up
These are some of the most common MacBook repairs done by its users and technicians. Hopefully, this article answers all your queries and helps you get your problems regarding MacBooks fixed! If you are having any of these problems and need assistance, please contact us for any MacBook repairs.