A poor Wi-Fi connection and slow network has become a problem for many businesses. If your business is experiencing this or you are looking to upgrade or setup a new network, a Ubiquiti UniFi network can help solve the problem.
Nowadays, our networks tend to depend a lot on Wi-Fi connections and gigabit connections. It is more convenient as it provides faster speed than most mobile networks. But when it is slow, it can get on your nerves. But with a Ubiquiti network, this won't be a problem.
This is why your home or business needs Ubiquiti UniFi hardware installed. And our Ubiquiti installers are here to offer you our services and support.
What Is Ubiquiti?
Ubiquiti Inc is an American tech company based in New York. It was founded in 2003 in San Jose, California. Ubiquiti is a specialist in wireless connections and networking products for multiple different environments, from home to small and medium business and enterprise.
Whether it is your home or office building, you will find Ubiquiti services in many of them. Their initial product was the mini PCI radio card and other wireless products. They have since expanded to many other product lines.
Some of them include EdgeMax, UniFi, airMAX, etc. We will discuss this further below.
What is UniFi?
UniFi is a product line from Ubiquiti that focuses on networking tools. They have several product ranges and models, including switches, wireless access points, routers, security cameras, etc.
UniFi is one of the most common systems found in many homes and offices. This is because they are reasonably priced. It offers a middle ground where people can still afford good quality networking tools from a renowned manufacturer.
UniFi wireless networks have a pretty long range. From an apartment building to a thousand-seater stadium, their range is quite vast. Moreover, you can choose the devices that you need to build your UniFi connection. It doesn't mean you can have a connection only when you are utilizing Unifi products.
For instance, UniFi's access points are enough to get you up and running. Of course, having all the pieces will benefit your greatly. But you can make do with a starter pack.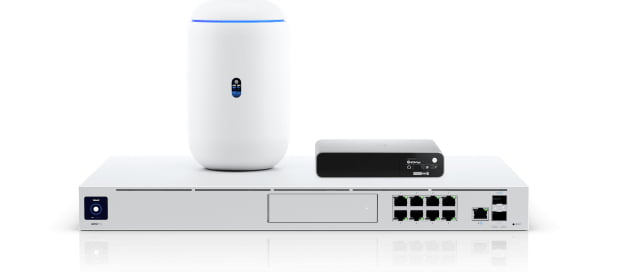 UniFi OS Consoles
We cannot talk about UniFi without including UniFi OS consoles. It is the software that runs the operating system for all UniFi devices. Examples of UniFi OS consoles are the Cloud Keys, Dream Machine Pro, etc.
UniFi consoles are helpful if you don't want to use a self-hosted controller. These consoles include the Cloud Keys.
We can still find the first generation of Cloud Keys on the market. But for better accessibility, our Ubiquiti installers recommend the second generation. The first generation of Cloud Keys faced several issues, like database corruption if there was a sudden power outage.
This issue is resolved in the second-generation Cloud Keys. They have an inbuilt battery that shuts down smoothly when there is no power. It also has a hard drive with storage of 1 TB, expandable up to 5 TB. We can integrate this with UniFi Protect. This feature is helpful for cameras.
Other consoles include:
Dream Machine
Dream Machine Pro
Dream Machine SE
Dream Router
We always recommend using UniFi OS consoles to run your Unifi hardware. They are designed to optimize memory and CPU usage. At the same time, these consoles are fully secure and help tighten your privacy.
UniFi Switches
UniFi switches come in layer 2 and layer 3 models with gigabit ethernet and 10 gigabit ethernet models too. There is also PoE availability that allow us to build scalable networks. They perform really well and are pretty cheap and sturdily built.
You can get UniFi switches with different Ethernet ports. This includes 8, 16, 24, and 48 PoE and non PoE ports. You can also use a UniFi controller software to configure the PoE at a passive 24V.
UniFi switches are an update to the much older EdgeSwitches. However, UniFi switches lack some of the advanced features we find on EdgeSwitches.
UniFi switches also operate at layer 2 and some at layer 3. This means the layer 2 switches cannot be used as a router, but they can handle VLANs effectively.
The first generation of UniFi switches are quite old. But they are still robust layer 2 switches. There are plenty of models, which include 8-port models to the US-48-500W, which can be rack mounted by a Ubiquiti installer.
Here are some of the more popular first-generation models:
Switch 8
Switch 16 PoE
Switch 24
Switch 24 PoE
Switch 48
Switch 48 PoE
Switch XG 16
Other than that, they have the second-generation models. These models are far better than the first-generation models. They are more compact and lightweight with lower fan noise.
The second-generation models also come with a touchscreen display. This screen displays information like the network, stats, etc. And they lack a console port, so you have to manage them over Ethernet in-band.
Some of the more popular second-generation models include:
Switch Flex Mini
Switch Flex
Switch Lite 8 PoE
Switch Lite 16 PoE
Switch 48 PoE
Switch Industrial
Furthermore, these models begin with the name "USW." For instance, the USW-16-PoE. The first generation begins with the name "US," like the US-8.
UniFi Routers
There are two different generations of UniFi Routers and a few models to choose from.
UniFi networks are modular. So you can add and remove hardware accordingly. A UniFi router is not entirely necessary to run an UniFi network.
But having a full UniFi stack has many benefits. UniFi routers offer standard routing, a Virtual Private Network, etc. But more complicated networking setups can be a problem for a UniFi router.
Here is a list of UniFi routers.
UniFi Security Gateway
UniFi Security Gateway XG 8
UniFi Dream Router
UniFi Dream Machine
UniFi Dream Wall
Cloud Key Gen 2
UniFi Next-Generation Gateway Pro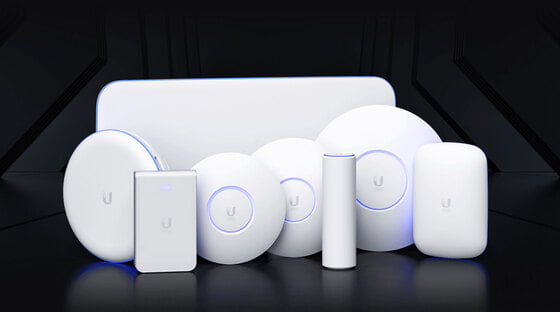 UniFi Wireless Access Points
There are several access points to choose from. UniFi offers up to 6 models. But the essential ones are:
Generation 2 (AC Wave 1)
Generation ¾ (AC Wave 2) and
Generation 5/6 (Wi-Fi 6 and 6E) models
We have in-wall models which we can mount on a wall box. For outdoors or places without hard wiring, a mesh and flex model works best.
Here is a list of UniFi access points.
U6 Lite
U6 Pro
Beacon HD
AC Mesh
nanoHD
AC-HD
U6-Enterprise
U6-Mesh
UniFi Wireless Point-to-Point Bridges
Point-to-point bridges are devices we use to connect our internet to remote locations from areas already connected. You will need a clear line of the site free of any obstacles to achieve this. Our Ubiquiti installer and support team will perform a survey before any installation to make sure this won't be an issue.
These point-to-point links are used to connect to areas where typical access points cannot reach. Reaching another building where it is impractical to lay network cable or a remote site miles away are prime examples. A point-to-point bridge can also remove the need for an additional broadband subscription.
Ubiquiti's Point-to-point bridges were designed to improve outdoor point-to-point challenges and they tackle those challenges very well.
UniFi Protect Cameras And NVRs
UniFi Protect Cameras offer a robust video surveillance solution for your home and offices. They have a smooth user experience and are high performing.
You can remotely connect and view your security cameras from any device. Plus, they are cost-effective and are an alternative to more expensive models.
UniFi also offers Network Video Recorders (UNVR). These high-quality devices are specifically designed to host UniFi Protect. UNVRs can also manage a large number of security cameras in one go.
These devices can provide up to thirty days of high-definition 4K video storage for up to fifteen cameras. Plus, they also provide Full HD video storage for 50 cameras. Our Ubiquiti installers can setup a UniFi Protect security camera system for your home or business.
Importance of Ubiquiti UniFi
If you own a business, investments in different aspects are a must. And this includes your Wi-Fi connections and network equipment. With a poor connection, your networks could fail, resulting in downtime for your business.
Ubiquiti UniFi also makes networks more scalable and less prone to failure. A Ubiquiti UniFi network will meet all your demands and help remove these risks all while saving you money.
Here are some benefits of using a Ubiquiti UniFi network
Easy Deployment – Our Ubiquiti installer and suppor team will quickly deploy hardware with the UniFi controller. If we have UniFi Security Gateway (USG) installed, we get several perks as well. On any UniFi network, the controller can easily detect any UniFi equipment. Whenever the controller adopts the device, the device receives the correct configuration and comes up in the network quickly.
Great For Small Business Models – UniFi devices are ideal if you own a small business. They are excellent for startups and can even benefit medium-sized businesses. They offer a cheaper option to other more expensive systems like Cisco. Businesses can expect the same robust delivery with Ubiquiti as other systems. Many products come with advanced features which are not actually needed. So, Ubiquiti is beneficial for startups and beginners that want high-grade systems.
Remote Access And Updates – You can easily control UniFi products remotely, and it is easy to lead and manage remote teams. All the Unifi products continue to receive security and performance updates. And these updates make the system more durable.
Full Transparency – With a UniFi network, you can see all activity going on in your network. This includes the number of people connected, traffic, network speed, etc. You can use this information about your network to optimize your network effectively. This will further increase its efficiency.
Importance Of Ubiquiti Installers
Installing a complex Wi-Fi system takes a great deal of understanding. Professional Ubiquiti installers will survey the site and see which hardware is needed for your network. Unless you are a professional yourself, this task is not easy.
That is why we have a Ubiquiti installer and support team. They will set up everything for you and have it connected in a short period.
Before we set up your Ubiquiti Wi-Fi, our installers will perform a complete assessment. This includes a full analysis of your site and business environment. This is to ensure everything is running smoothly.
Plus, UniFi Wi-Fi systems are fully customizable according to the user's needs. As a Ubiquiti installer, we will help you decide on the right solution.
UniFi Applications That Run On UniFi OS
UniFi also offers a wide range of applications that serve different purposes. These applications can integrate with your UniFi OS and offer a smoother experience.
With a UniFi application suite, you can meet plenty of needs that are beneficial for your business or home. Let us take a look at the applications that run on the UniFi operating system.
UniFi Protect – UniFi Protect offers a well-integrated camera system for your security needs. Here, you can record and store clips, set notifications, view live surveillance footage, etc.
UniFi Access – UniFi Access is the modern and latest access control system. With this application, you can easily set schedules, manage visitors and users, etc. Plus, it supports alarms, motion sensors, push buttons, and magnetic locks for your doors and entries.
UniFi Network – With an UniFi network system in place, you can build robust networks anywhere. Whether it is at your home or office, your networks will always perform strong. And you have a wide range of devices to help you with that. They include UniFi Switches, Wireless Access Points, Gateways, etc. You can even monitor client activity, customize traffic rules, etc.
UniFi Talk – This is a subscription-based and affordable VoIP phone solution. It is fully designed for small and medium-sized enterprises.
Closing Thoughts
Scalable and modular systems like Ubiquiti UniFi systems have their ups and downs. It can get pretty complicated depending on your needs, but they offer a stable and reliable networking solution.
If you need support for your Ubiquiti Unifi products or are looking for a Ubiquiti installer to setup or upgrade your business computer network, then contact Pennyrile Technologies today. We offer support and assistance for many UniFi products including UniFi Protect, UniFi Talk, and more.